Today is an exciting day, Mistress Amthea if finally coming to visit your new lab and you cant wait to show her your progress, between Dualis and Sie, you feel you accomplished quiet a lot in her absence… with getting your own lab, successful clones and figuring out if the light in the fridge actually turns off when you close it, yes you have been quiet busy indeed. oh was that the door bell? She must be here already!
you rush to the door in your most dignified fashion, which is to say, you ran like a mad man on fire and giggled with glee at the prospect of seeing your mentor again
It had been a long while since you had seen Corvus; what with your sudden but inevitable departure to be with Aneris in his final months, even so you had been sure that he would be capable to survive on his own.
When you did arrive back, and you found that he had been granted his own lab, much like you had been at his age, you were thrilled. Your protegee was certainly making a name for himself, and while you were sure his skills were growing there was no way he'd surpass you anytime soon…So at least you still had your dignity there.
Staring up at the lab you couldn't help but find yourself just that teensy bit jealous; the place was huge! You had no doubt he'd be getting up to all kinds of mischief inside.
So, without further delay you wandered up the drive, through the gates and to the front stoop, raising your hand to grasp the door knocker, using it to bang on the door a few times.
Well now, wasn't this going to be exciting…
you bound for the door and throw it open, Yes! Its her!
♦ AMTHEA! ♦
you throw yourself around her midriff and give your mentor and most cherished troll a hug, it had been a sweep since you last saw her, apparently on business for the empire if you recall. at the time you were distraught at her departure yo remember the exact reason
♦ hehehe, did you have any trouble finding the place? ♦
Corvus!
You can't help but slip your hands under the little troll's arms, lifting him up and swinging him around for a moment before pulling him close for a hug. He's grown up so much and you could not be any prouder of him.
How you've grown! IƮ seems like only lasƮ perigee you were so small you could barely reach over Ʈhe counƮer and now look aƮ you!
You put him back down, recovering slightly from your outburst of affection. Straightening your top you smile at the young troll in front of you.
I had no Ʈrouble, your direcƮions were impeccable…Shall you show me around?
you giggle like a wriggler when you were picked up, just so happy to see her you forgot you self for a moment, regaining your composure and straightening up your coat, you beam at your inspiration of your profession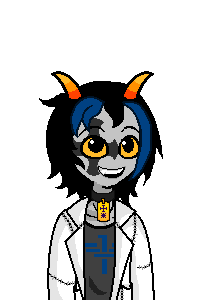 ♦ of coarthe, hehe, i have many experimentth in progrethth, even thome thtable thubjectth~ ♦
you step inside and gesture for Amthea to follow
♦ there a three main roomth of rethearch here, the operating room, the library and the lab, for chemical tethting and thuch, i managed to make a clone in there hehe ♦
you trail off as you reach the main Rec room that you like to relax in and read on one of the sofa's lining the walls
Ʈhis is quiƮe some place you have here, Corvus…
> You are astounded, and yes, definitely jealous now. Goddamn, why weren't you offered such a lab? You had to work out of your own hive, for Sufferer's sake!
>…Wait did he say clone? You stiffen slightly. You'd dealt with clones in the past, though not perfect specimens. Your former Kismesis had created them himself…You were definitely curious to see if Corvus had done any better than Skizit.
C…Clone? May I be permitted to see it? 


Similar topics
---
Permissions in this forum:
You
cannot
reply to topics in this forum